You could be the winner of a Gold Bar!
Alphien and Global Precious Metals launched the Precious Metals Allocation Competition on Nov. 25th. The competition is open to all the data scientists around the world where you have the chance to build a dynamic, long-only, fully-invested allocation between gold, silver, platinum and palladium with a limited drawdown.
The winner will get a 100g Gold Bar and the 2nd best participant a Canadian Maple leaf ½ ounce Gold Coin as a prize! Also, you could have your strategy licensed by our sponsor and earn licensing fees!
Check the live leaderboards constantly, because thanks to our new points distribution system, the top 5 participants with the best performing strategies will have the opportunity to earn points every week to exchange them for special features that could help you win the competition! Find out the details and join the competition here.

Do you want to host a competition instead?
If you are interested in getting the best solutions for your quantitative financial challenges, Alphien could help you reach and connect with our growing community of 3,700 data scientists around the world, thanks to our fully hosted cloud platform!
Launch a global data science competition with us in 5 simple steps in our new micro-site for investment managers!
Define your competition's goals and specifications.
Alphien will prepare a dedicated environment to launch the competition.
Monitor the progress of the competition.
Get full transparency on backtest, vetting and paper trading results.
Select the strategies you wish to license and receive investment signals electronically.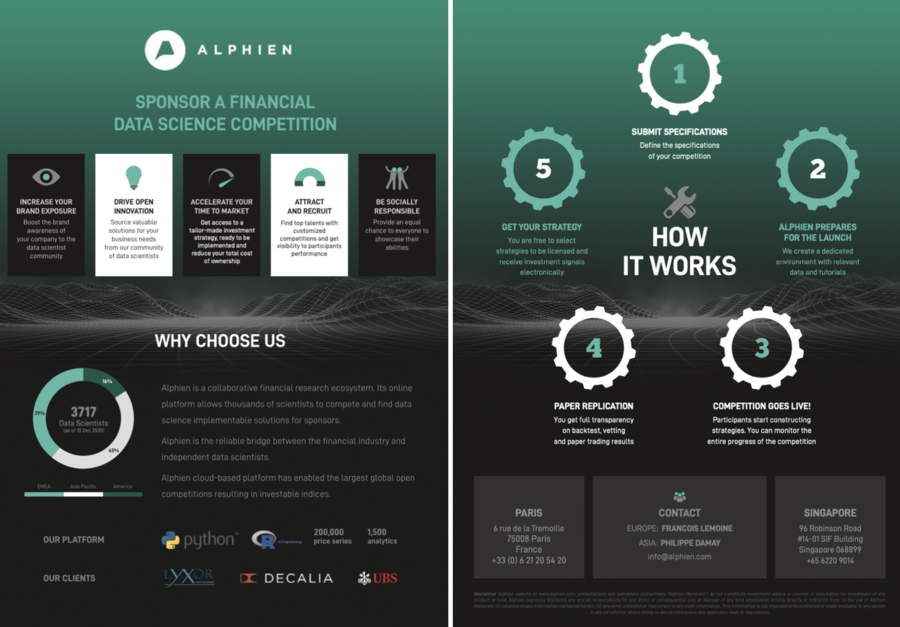 Check why you should host a competition and all the solutions we offer to help you.