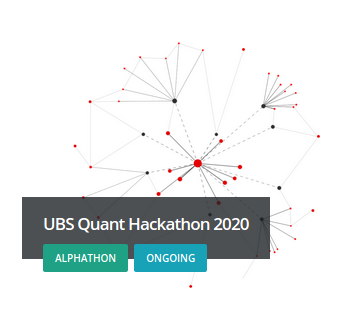 Are you ready to show your quant skills?
New competition launched! On 10th September, we partnered with UBS to launch the Virtual Quant Hackathon 2020, an online quantitative strategy and financial data science competition. Combine your innovative ideas with your quantitative and data science skills to tackle real-life financial industry challenges.
The competition is open to all University students and consists of 2 rounds. In the first round, you will be able to join one or both of the these competitions:
Joining both competitions will increase your chances of qualifying for the final round.
In the final round, the finalists will have the opportunity to work closely with the UBS professional team, compete in the online Hackathon and battle it out for a total of USD 20,000 cash prize.
Are you ready for the challenge?

Alphien has a new look!
We are highly motivated to keep providing you the best experience. We have redesigned our website based on simplicity and usability. Now, we have a new intuitive design that offers many improved features such as an upgraded navigation mode, upgraded live chat bot and structured content.
Check it out here.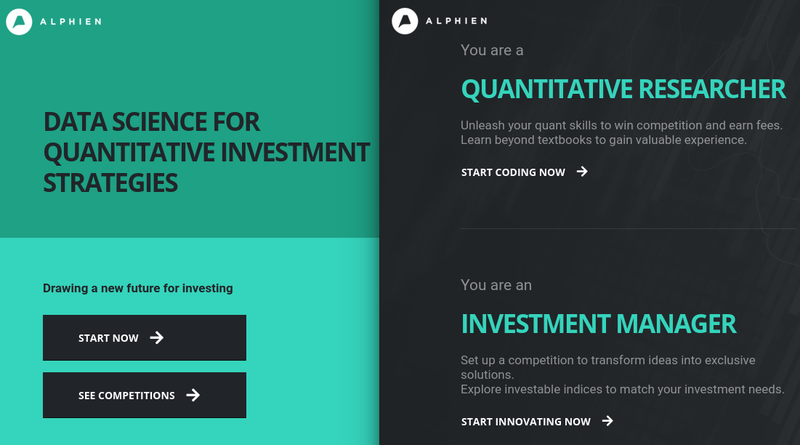 Build strategies in Python
Last month, we re-launched our Beat the Next Market Crash challenge, where participants were able to create long-short strategies on the SP 500 futures that time the market correctly, while using machine learning techniques.
With the success of the event and growing number of participants, we decided to give our users the opportunity to improve their existing strategies, and we extended the deadline until September 4th. We also enabled them to use either R or Python to build the strategy. This time, users created investment strategies in a single asset, the SP 500 future. As they start developing their Python skills, we are preparing to open Python to portfolio building.
Also, our quantitative team has been working continuously to improve our platform by creating new assets. In order to expand our investable asset universe and extend the list of investment strategies, we have included a large number of global equities. With that, we open our competitions to new possibilities and offer you a new investment universe to create their strategies.
Not yet an Alphien user? Register for a free account here.
Continue reading: