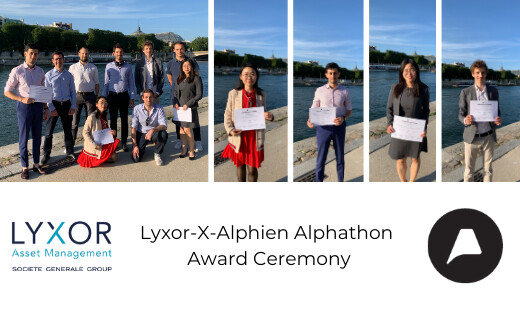 Paris, July 17, 2020
On 23rd June, during a virtual ceremony, Lyxor Asset Management and Alphien celebrated the winners of the Lyxor-X-Alphien Alphathon. The competition, launched in September 2019, aimed at creating dynamic ETF Lyxor portfolio models to outperform the Stoxx 600 index (dividends reinvested). One of the competition's most noticeable features was the use of data science.
The award ceremony was attended by Lyxor's management team, Alphien team and the winning teams.
The 250 participants in the Alphathon have collectively submitted 56 portfolios (available on the Alphathon Leaderboard). The four winning teams (two winners each for Student and Professional categories) have briefly presented their strategies during the ceremony. Winners had been selected by a prestigious jury panel of 5 members gathered by Lyxor on 3 March.
In April 2019, Alphien had already hosted on its platform Lyxor's sponsored Datathon about sustainable finance.
Arnaud Llinas, Head of Lyxor ETFs and Indexing at Lyxor Asset Management, commented: "I am highly impressed by what I have seen. We have placed candidates in professional asset management conditions and most of them have been able to outperform the Stoxx 600 index. The competition has also made it possible to democratize and promote ETFs with a large number of researchers."
Lionel Semonin, Founder of Alphien, commented: "We thank Lyxor for embracing open innovation with us and for their help in promoting the competition through the French "Grandes Ecoles". We are all impressed by the professionalism of Lyxor and understand why they remain at the cutting edge of thematic investments."
Benjamin Bruder, Head of Quantitative Research at Lyxor Asset Management, commented: "I wish to thank Alphien for conducting this project, bringing its fantastic technical support and eventually making this competition a success. The Alphathon has been for Lyxor an opportunity to access fresh quantitative ideas, build links with a large and diverse community of data scientists and affirm Lyxor's quantitative culture."
About Alphien
Alphien is a fintech based in Paris and Singapore. The start-up connects the financial industry to the world of academic research through its interactive platform. First, it provides researchers with the technology and data required to develop quantitative investment strategies. Secondly, investment managers can use Alphien as a genuine research and innovation laboratory. This enables them to access a vast pool of talent and expertise, in particular in the field of data science. In June 2019, Alphien was certified by the Finance Innovation cluster for its "Alphathon" project.
For further information, please contact:
François Lemoine, Head of Business Development (Europe) - Tel: +33 (0) 6 21 20 54 20
Philippe Damay, Head of Business Development (Asia) - Tel: +65 9661 7036