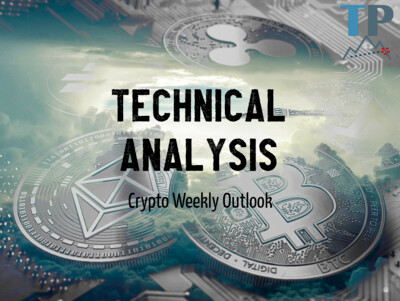 Feb 16, 2020 - Posted by Darren Chu, CFA of Tradable Patterns
Ripple (XRPUSD) continued surging this past week as part of its major bottoming, breaking above the psychologically key 0.3 whole figure level. XRPUSD's decisive surge mid January above the daily chart downchannel resistance, reinforced observations of major bottoming patterns with Bitcoin (BTCUSD) and Ethereum (ETHUSD). As shorts are increasingly getting squeezed, longer term bulls are looking towards the levels last seen in May and June 2019. Although a test of the 2019 high is increasingly likely for the first half of this year, given the massive bounce in the past month and a half, bulls should not rule out more healthy consolidation this week or for the balance of February ahead of the next leg up in the daily chart upchannel. The weekly RSI, Stochastics and MACD are rallying, with the daily RSI and Stochcastics working off overbought conditions.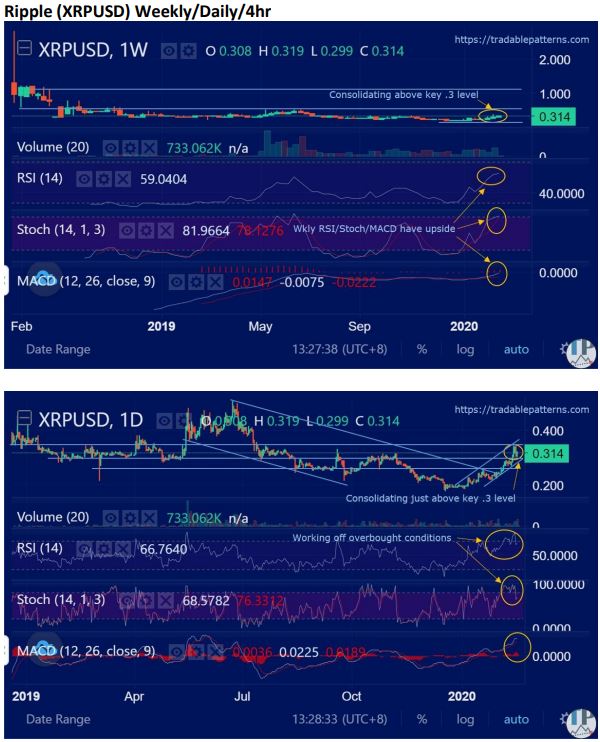 Credit to: Copyright © 2020 Tradable Patterns Limited, All rights reserved.
Ripple Fundamentals
XRPUSD bulls are looking forward to similar news to last July's announcement that MoneyGram (the world's second largest money transfers provider) will utilize XRP through Ripple's On-Demand Liquidity (formerly named xRapid) product. As part of the partnership, MoneyGram received USD 50M in capital from Ripple in exchange for equity. The MoneyGram relationship should help Ripple add to the 20 On-Demand Liquidity (ODL) customers among the 200 or so financial institutions testing Ripple products. ODL is seeing fairly strong activity in Mexico and the Philippines, and is now available in 25 countries. MoneyGram now processes 10% of its US-Mexico corridor activity using XRP. In order for more ODL corridors to be launched, Ripple will need to find more banks to participate in the other side of the XRP trades. Ongoing lids on a stronger XRP rally include Ripple holding 50 billion XRP and selling into rallies, and the threat of any legal action against Ripple for being deemed to having issued a security (i.e. XRP) without meeting appropriate regulatory requirements. Increasingly, the pressure against XRP will come from the proliferation of stable coins (including the JP Morgan coin and eventual central bank-issued coins) which have much lower volatility than XRP, and non-crypto payments technologies.
Industry Fundamentals
Tencent announced just before Xmas that it is forming a cryptocurrency research unit, likely assisting with the China digital Renminbi coin launch. Tencent-operated WeChat Pay has a 40% market share in China's mobile payments industry, and 900 million users globally as of 2017 (with the majority in China as WeChat Pay is available only in a few countries outside of China)…
Click hereto read the rest of the Industry Fundamentals, along with technical and fundamental analysis of Bitcoin and Ripple
About the author: Before the launch of Tradable Patterns, Darren Chu, CFA, served as IntercontinentalExchange | NYSE Liffe's country manager for Australia, India, and the UAE between July 2010 and January 2014, expanding his role to look after Liffe business development in APAC ex-Japan/Korea until his departure mid April 2014. His primary remit was developing relationships with Liffe clients, prospects and partners in the buyside (traditional and alternative asset managers), proprietary trading (high frequency algo as well as manual, point and click traders), bank, broker (institutional and retail), commodity trader and ISV community. Key futures and options promoted included European/London rate benchmarks such as the Euribor, Short Sterling, Gilts, London/European index futures including the FTSE and CAC, London soft commodities (Robusta Coffee, Cocoa, White Sugar), Paris (MATIF) markets (Milling Wheat, Rapeseed), and NYSE Liffe US markets with the MSCI EM, MSCI EAFE, gold/silver, Eurodollar, US Treasury and GCF Repo futures being the focus.
Previously, Darren was with the TMX Group | Montreal Exchange for 4 years, marketing Canadian futures and options across North America, London, Singapore and Hong Kong. Darren also launched and managed CMC Markets Canada's Chinese marketing and sales team, along with educational offering. On the academic trail, Darren has been a frequent guest speaker at Canadian universities as well as an author of content for 3 derivatives courses offered by Canadian Securities Institute and mandatory for licensing of Canadian derivatives industry professionals.
Darren can be reached at: +65 8118 8840 or via email at darrenchu@tradablepatterns.com.